Resistivity - Cost
Class level
Metals and alloys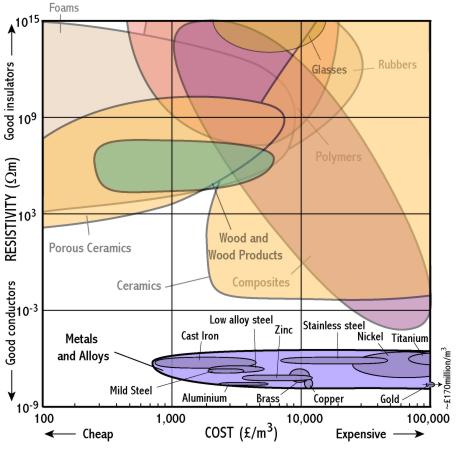 Ceramics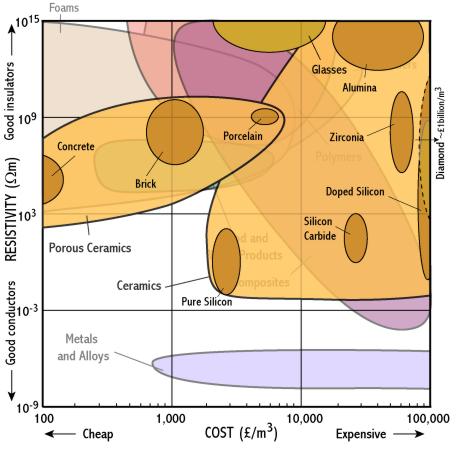 Polymers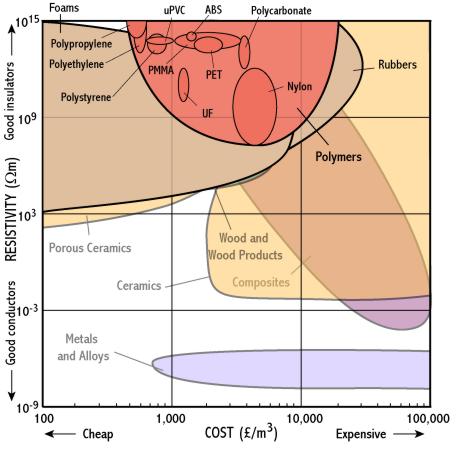 Wood and wood products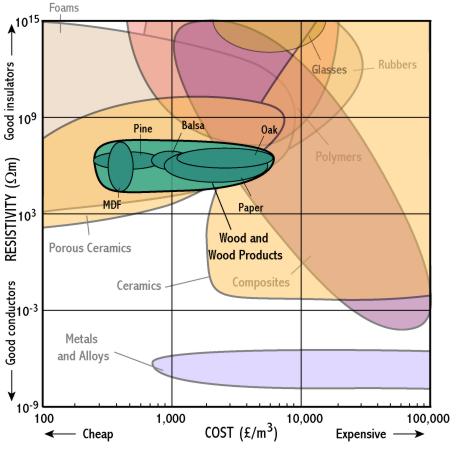 Composites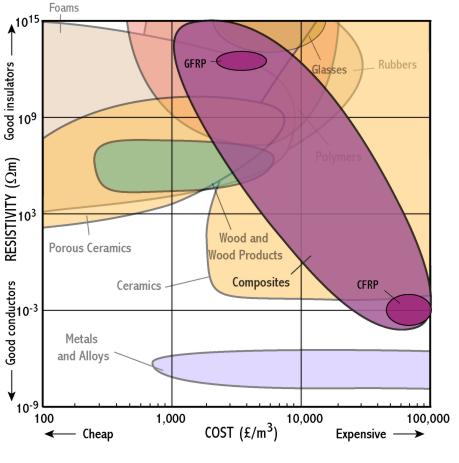 General Information
This chart is important for designing components requiring good electrical insulation (e.g. plug casings) or good electrical conductivity (e.g. electric power cables) at a good price
Good electrical conductors are usually good thermal conductors and good electrical insulators are good thermal insulators
The similarity between electrical and thermal properties means that the chart can also be used to identify materials requiring good thermal insulation (e.g. for kiln walls) or thermal conductivity (e.g. for frying pans)
Physical Insights
Metals are much better conductors than other materials because they have metallic bonds in which valence electrons are pooled. These electrons are free to move and carry current
Pure metals are much better conductors than alloys - this is because electrons travelling through the material are obstructed by irregularities such as alloying atoms
Polymers and ceramics are good insulators because they are covalently bonded and so their electrons are all tightly bound
Semiconductors are 'doped' with elements which provide extra electrons (n-type) or provide positive holes (p-type) which can move freely
Example Uses
Gold and silver have the best conductivities but are too expensive to be widely used, except as connectors in electronic applications
In general the next best materials, copper and aluminium, are used (e.g. electric cables)
Polymers like urea formaldehyde are insulators, and are used in electrical components to protect the user (e.g. light switch casings)
Simple Questions
Why is copper used instead of brass for electric cables?
Why do metals feel cold to touch?
Select materials for an electric drill body.
Select materials for the main body of a 13A fuse.
Select materials for a cavity wall or attic insulation.
Further Questions
If polymers are bad insulators why do trees get struck by lightning?
Why must silicon used in semiconductors be really pure?
Why do electronic components get hot?
---
Select chart: