Case Study
Product Analysis: The 13A Plug
The 13A plug is perhaps the most common electrical component we use; it retails for under a pound, contains numerous parts and together with the cable and socket is an essential part of almost every household electrical device. But have you ever considered what materials are used, or the manufacturing processes chosen to make it?
The 13A plug: a small system
Plugs are made of many components, so we need to think about the overall function of the plug as a system. This helps us to ask the right questions about each of the components. To understand the design of a 13A plug we can ask the following questions:
Important design questions
What are the function and requirements of each component (electrical, mechanical, aesthetic, ergonomic, etc.)?
What is the function of the plug and how does it work?
What is each part made of and why?
What manufacturing methods were used to make each part and why?
Are there alternative materials or designs in use, or can you propose improvements?
Take a real plug to pieces and think about what things the designer might have specified<.
Design Specification: 13A plug
The plug should:
enable the user to provide an electrical path from the socket to the appliance
prevent an electrical path being formed between the user and the mains!
provide a rigid set of pins for location in the socket
be sufficiently tough to prevent failure upon dropping
be resistant to the use environment (e.g. temperature, moisture, etc.)
prevent or enable the user to fit the cable to the plug
be aesthetically pleasing and easy to grip
satisfy the requirements of the British Standards
These specifications place constraints on which materials can be used.
Choosing the right materials
The safe and efficient functioning of a plug and cable depends on the ability of the various parts to conduct electricity. Clearly our first step in choosing materials must be to consider the need for electrical conductivity in each part. The parts of the plug can be divided into those which should be good conductors, those which should be good insulators and those for which conductivity is not a major factor.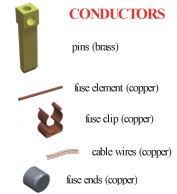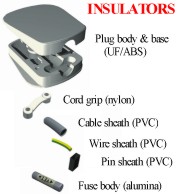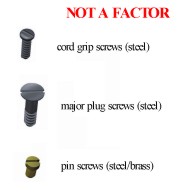 ---
Next