Property Information
Density
Overview
Density is a measure of how heavy an object is for a given size, i.e. the mass of material per unit volume.
Changes in temperature do not significantly affect the density of a material - although materials do expand when they are heated, the change in size is very small.
Gold is well known for its high density - this is why people in films are often shown having difficulty carrying even one small ingot. Lead is another familiar dense metal, used for weights and lead shot.
Many materials have a uniform internal structure (e.g. in metal the atoms are regularly packed together in a "crystal" structure). The density of these materials is therefore well defined - there will be little variation in different samples of the same material.
Some materials have a variable internal structure, for example wood is made of hollow cells which can vary in size and thickness between trees. Because of this, the density between different samples of the same material will be more variable.
Design issues
The weight of a product is a very common factor in design. In transport applications, lightweight design is very important - for example, to reduce the environmental impact of cars, or to increase the payload of aircraft. Weight is also critical in many sports products - racing cycles, tennis racquets, golf clubs, rucksacks.
In most lightweight design, the aim is to make a stiff or a strong component at a low weight. Density is often therefore considered alongside Young's modulus or strength. Specific stiffness of specific strength are then useful quantities.
Specific stiffness is Young's modulus divided by density; light, stiff products require high values for specific stiffness (more properly called specific modulus).
Specific strength is strength divided by density; light, strong products require high values of specific strength.
In some design problems high density is desirable - e.g. weights for scales, bullets and shells, hammers, coins.
Measurement
The mass of material is easilly and accuractely measured on a sensitive balance, but the volume is more difficult to measure. An approximate value can be obtained for simple regular shapes from the dimensions. More accurate measurements can be made by measuring the amount of water displaced from a full container when the object is completely immersed.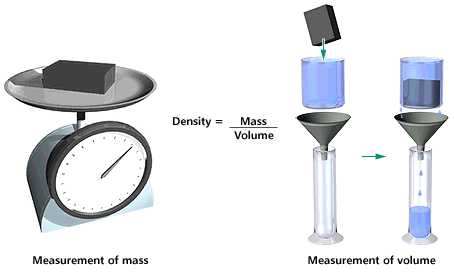 Units & Values
Density is measured in kg/m3. Note sometimes the density relative to water is stated.
i.e. relative density = density/density of water (=1000kg/m3)