Go to the basic non-Java version. Return to the charts main page
Energy - Cost
Rollover class name to view individual materals, click chart to return to class view. Hover mouse over property for brief definition.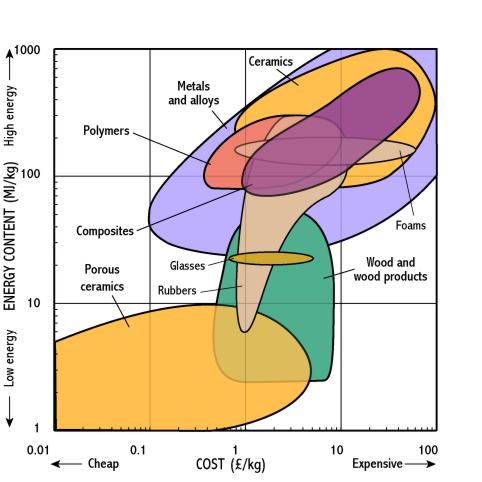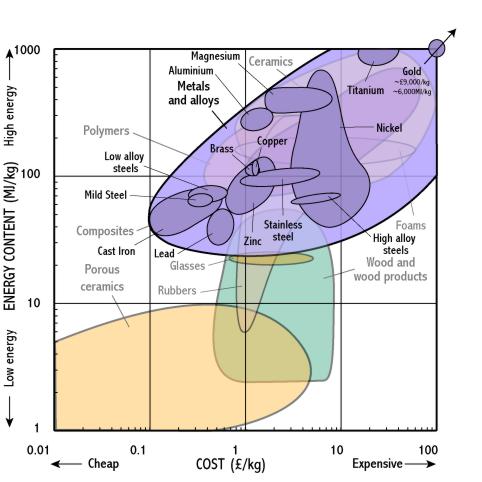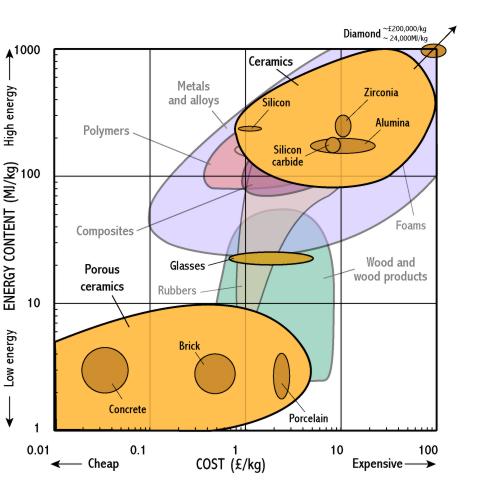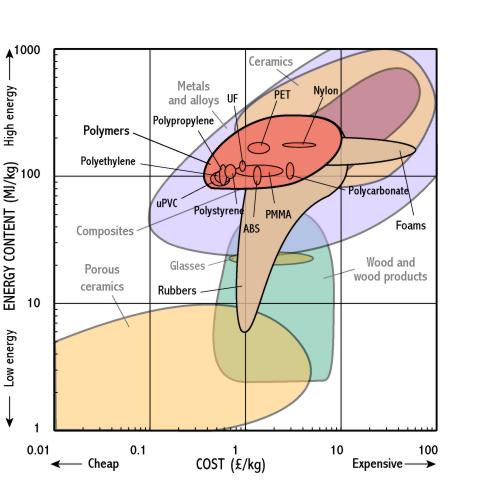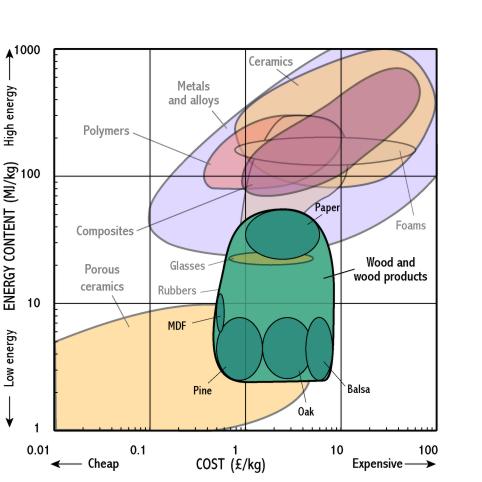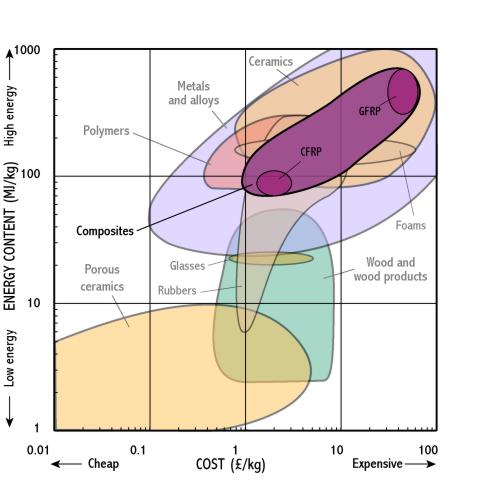 General Information
In general the energy required to produce a material is a large factor in the raw material cost. As a result most materials lie on a line from bottom left (low cost/low energy content) to top right (high cost/large energy content).
It is difficult to assess the environmental impact of using one material over another since there are many factors from production to disposal.
The energy content used to produce a material gives a rough indication of the environmental cost of production
For materials which are energy intensive to produce there are large cost and energy savings by recycling e.g. aluminium cans
Gold is a precious metal which can be sold for a very high price; this means that more energy can be spent in extracting it by mining rocks containing only a small fraction of gold
Physical Insights
Measuring the energy content of a material is difficult, but includes:

the energy required to collect/mine the material
the energy required to refine, extract or synthesise it

Polymers are made by refining and processing hydrocarbons from oil - the energy used per kilogram is similar to the energy needed to produce many metals
Construction materials such as concrete, brick and woods require relatively little energy to produce them and are thus cheap
Metals are usually extracted from their oxide - this takes up a lot of energy, for example, one twentieth of the total energy consumption in the United States is used to produce aluminium
Example Uses
To select materials which have less environmental impact and contribute less to global warming
To consider environmental impact for one-use disposable products - e.g. disposable gowns, sheeting etc in hospitals are made from paper
To consider environmental impact for high volume, energy-intensive products such as cars
Simple Questions
Why is it economic to recycle aluminium cans but less so for steel ones?
Why will new reserves of minerals/oil which are not now economic to mine become economic in the future?
Select materials for a wall/fence around your house.
Select materials for fast-food restaurant eat-in plates, trays, etc
Select materials for bedding for cattle.
Further Questions
Why doesn't energy produced by wind-turbines lead to global warming?
Why is the controlled burning of polymers an environmental option to landfill?
Give one application where diamonds are used in industry and explain why.
---
Select chart:
---